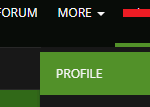 This is the story of my experience with TorrentLeech in the last 2 months, with some very important morals and a tutorial how to implement RSS for Torrent leech with uTorrent.
Tired of reading and want to get going with it? jump to "First Step" section.
Well, after I've been waiting for it for few years, about 50 days ago, I finally got a TorrentLeech account,
Loaded with tons of self confidence, after managed to advance, get to high level and reputation in trackers like: IPT / tDay / Torrenting / ruTracker / DownRev / Fuzer / Hebits, I'm thinking only about 1 thing - 0-day
TL is mostly known for it's 0-day packages, a big collection of many types of downloads, assembled to 5 to 10 GB package.
the 0-day packages usually disassembled and distributed widely.
I say , what the hack, I find myself a nice app 0-day package of ~7.3 GB  and very proudly press download (coming with my ~250 Mbps symmetric connection, I'm sure it will prove I'm invincible.
OPs in TL must have been sitting up there in the cloud and laughing.......
As I mentioned, after a lot of experience in other Trackers/Forums, I have learnt over the years that the tracker will credit you for the size of data you are sharing, the time you are sharing it, the number of torrents you are sharing etc.....
Well - TL isn't !!! this tracker doesn't care about anything, you can leave a 100 GB torrent for a year, it will do you no good UNLESS IT IS BEING UPLOADED !!!
How crazy is it for someone reached Gold Membership by seeding 155 torrent in a total size of 7 MB for few months and becoming a king???
Yes, dear world, this is the only Tracker/Forum I have found of (and I've made a research) that cares only about 3 things:
UPLOAD, UPLOADING and UPLOADS!
Furthermore, I have learnt the hard way.....
TL is measuring your RATIO!
Ratio = GB uploaded / GB Downloaded
Once the ratio is below 0.4 you get a nice alert saying something like "you've got a problem pal - fix or be banned...."
Oh, but you when you join, you get a kinda "Freshman's grace" , while your download is below 6 GB, Ratio is not measured.
Now, I suggest going back to the 2nd paragraph here and read again what I've done...... lol !
Yes, I got the BAN alert ~7 minutes after I joined TL - it must be some kind of record.
The moment it happens, I get a WhatsApp msg. from the friend who invited me (call him RF) in saying something like, "Hey, What The F*** have you done?", at this point I don't even understand whats' wrong, saying something like "hey, I'm a gold member in Fuzer, cool it man..."
My status in this point is: 2 torrents downloaded ~7.8GB download together, uploads of ~170 MB, which gives me a ratio of ~2%.
So the ops in Chat window and RF keep telling me, only two things you can do: Cross-Seeding and Partial-Download.
Say What??? I thought I knew everything about trackers, "why?" , "where?" , "when?" and every 'wh question' I have in my lame vocabulary are running through my head.
The old Chinese story about the bird and the fox is saying "When your in deep shit,  shut up!", but me, I don't understand Chinese and can't shut-up, no matter what.
At this point I'm starting to fight for survival, I can fill the next 1000 words with my efforts but it will not change the fact I spent the next 3 weeks fighting blindly and somehow managed to raise my ratio to ~15% but actually dug  my hole deeper and deeper because I was in ~25GB of downloads and needed extra ~6 GB of uploads just to reach the sea-level, which seemed impossible at that point.
A week later, as I return from a business trip and realize I have a ban, I contact Chat and ask for grace, again.
Looking at my glorious history, my request is being escalated and after an hour of so, I get a message - "last time, you've got a week before you are banned, this time permanently".
Well, this is when I decide I need to investigate, learn the nature of this beast and try to beat it in it's own rules:
"Learn, Investigate, Master, Conquer"
I spent more time learning about TL than I spent learning Python, I swear,
and here are the conclusions:
Most popular torrents are TV-series episodes: upload interval is accurate as a swiss watch.
Most of the downloads of a "hot" torrent ends in the first half hour after uploaded.
The game is conducted by machines (Seed-Boxes), not humans.
The later you will download a torrent, the lower your priority in seeding and uploading it.
ALL most popular torrents are uploaded at late PM (GMT-5) -> very early AM my time - impossible to monitor manually if i want to sleep at night
All through the process I hear about RSS and understand that "the strong are getting stronger" only by automating the downloads with RSS.
So I decide I'm learning how to use RSS in my computer to help me download, long research confuses me, I'm downloading many tools to create self-defined RSS from TL and nothing really working,
And then I find the answer in-house :  TL has an RSS service, containing the last ~100 torrents uploaded to the forum... That's it !!!
Playing with RSS in other trackers in the past I have learnt a thing or two about how it works and how to filter, manipulate the data in the RSS to download only what you need.
so..... the bottom line is at the bottom of this post , but first, why don't I share with the world my tutorial of how to master TL and get high Ratio and big Buffer:
First Step: in the Web-Site
Click your username in the top left corner of the web-page.
In the profile window you can find all the information about your account
Click the Edit tab
in the Edit tab page, scroll down to "RSS option" section and expand it.
Switch on the "Enable RSS access"
Copy one of the URLs to your clipboard (select, CTRL-C or right click and choose copy), you will use it soon in the Torrent client.
Second Step: in the client (I'm using uTorrent, you may find the equivalents in whatever client you are using)
Click File -> Add RSS feed......
In the RSS feed window , paste the URL you jusr copied from TL's website.
make sure you keep "subscription" in "Do Not Download....."
Press OK.
At this stage, you will see that a new  feed appeared in the RSS feed list (left panel of the client in my case)
clicking it shows all the latest torrents from TL (i've selected the last 100).
One more thing , an undocumented tweak:
Go to options -> preferences -> advanced
Scroll down and locate "rss update interval" to 5  (this is the minimum possible interval in uTorrent), this might be very handy in getting a hot torrent as soon as possible.
Third Step: investigate TL's top (1 week)
Looking at the top torrents of the last week will clearly show you all the most downloaded torrents in the past week with the amount of downloads each had and the "added time" of each.
When I did it i found out that not only TV-series episodes are the most popular torrents, most of them are "HDTV" and "720 HDTV" releases.
So in my case I decided to embrace these type of torrents and make the my "Favorites" in the torrent client.
Forth Step: create Favorites and automatically download them
Open the RSS downloader from the client's menu, (in Utorrent through options menu or CTRL-R).
Add a new favorite and fill in the details as shown in the image below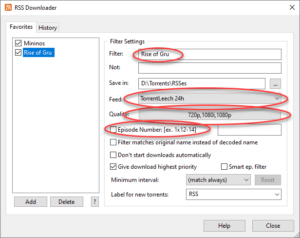 Now all you have to do is ...... wait!
....End Of tutorial
These steps helped me get:
a Buffer 125 GB,

Upload of 190 GB with a ratio of over 8 (!)

Clear all the ban alerts i had,

Unlimited download seats (concurrent downloads)

Buffer of 125 GB (amount of data to download with Zero upload before you go down to ratio of 1)
.....all in 3 weeks of doing almost nothing
Yes, I'm well aware of the fact that my amazing upload bandwidth had a lot to do with it but still, that's how it worked for me.
Good luck.
Update1 - Feb 2019:
After I calmed down , uTorrent continue working for me, and I have reached a buffer of 350GB so far....
Update 2 - June 2019
Going Easy , Downloading whatever I want , buffer is ~600GB
Leave a comment
You must be logged in to post a comment.